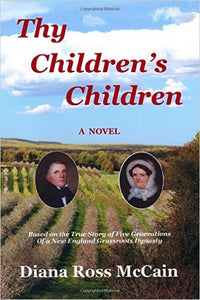 Thy Children's Children: A Novel based on the Lyman Family
Regular price $27.95 Sale
A novel based on the True Story of Five Generations of a New England Grassroots Dynasty 
The Lyman Family of Lyman Orchards 
By Diana Ross McCain 
Vibrant with intimate detail and intense emotion, this historical novel traces a real New England family through the turbulent decades that transformed American colonies into a young nation on the cusp of the modern industrial era.
THE SEEDS OF A GRASSROOTS DYNASTY that flourishes to this day in Middlefield, Connecticut, were planted when John and Hope Lyman began life on a small farm in 1741. Here the first five generations of Lyman men and women built a homestead, facing challenges large and small, with courage and conviction. 
Even as Lymans sank roots into New England soil, they were active in charting the course of the nation's history from colonial times to after the Civil War. They fought for American independence, crusaded to end slavery, pioneered industry, and more. 
Softcover, 634 pages, 6.14" x 9.21"